True Stories and Facts about Salma Hayek
Name: Salma Hayek ( Salma Hayek )
Born: September 02, 1966
Birthplace: Coatzacoalcos, Mexico
Height: 157
Occupation: actress
Tags: actress
Relationship Status: married to Francois-Henri Pinault
Who is Salma Hayek?
.
Salma hayek is a professional actress, was born on the 2nd of September,1966 on the coast of the Gulf of Mexico. into a wealthy family, within the city of Coatzacoalcos. Her mother Diana Medina is a popular opera singer of Spanish descent, and her father Sami Hayek is a Lebanese successful businessman who has made a fortune in the oil market.
Since early childhood, Salma's mother cultivated love to art with her daughter and her father didn't miss an opportunity to treat his beloved daughter. After Sunday Mass Sami took his children to the movie theater which was the only one in the town and which was quite often completely full. But even one seat was enough for the family of Hayek because her father put his daughter upon his shoulders so that the girl could freely enjoy cinematography. That's exactly when Salma began to understand that she wanted something more from her life and she dreamed to leave this small town.
When Salma turned 9, she got such a chance. The girl was doing gymnastics for several years, and she was invited to join the national team. But her father interfered as he was categorically against the departure of his underage daughter to the capital where she would have to go through exhausting daily training. As well as any other child who was brought up in respect for parents Salma listened to her father's decision and stayed with her family. However, the future actress didn't refuse her dream to leave the city and later she managed to persuade her parents to send her to Louisiana where there was a Catholic boarding school for girls.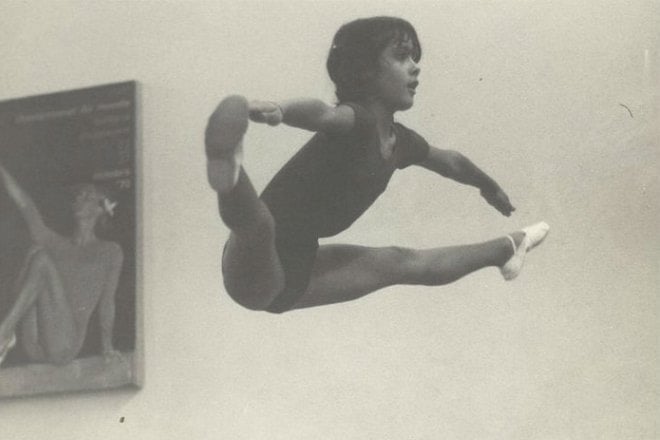 Salma Hayek had rather controversial impressions about her school studies. She learned pretty well and received good marks, she adored singing at Catholic masses and quite often joked on the tutors who weren't angry at their naughty schoolgirl. But then Salma was diagnosed with the unpleasant disease – dyslexia which prevented her from seizing reading and writing skills fully. Besides the girl was embarrassed about her small breast what made her rather inconspicuous against the background of other feminine schoolmates.
In 15 years Hayek returned to Mexico for a while to set off to the USA again but to Houston that time, where her aunt was living. Her long stay in the English-speaking country allowed the girl to master the language and also to integrate American culture and its values. Despite the future status of the movie star, during her teenage years, Salma suffered from the problems with skin which was characteristic of many girls of her age. While Salma was fighting against her flaws and weak sides, she was depressed and got digestive disorder because of which she could eat nothing all day long or on the contrary could absorb food in abnormal quantities.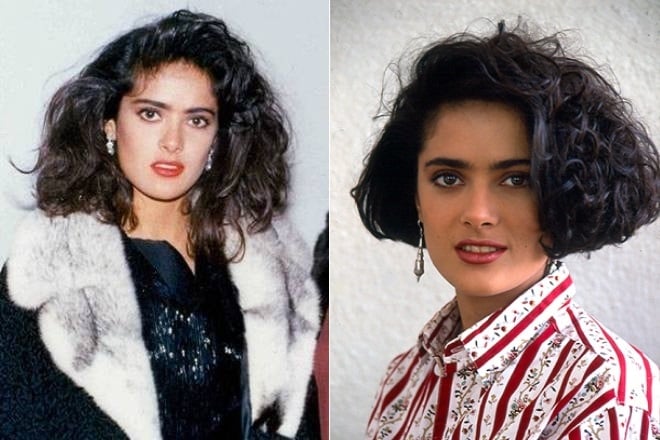 Inappropriate nutrition led to weight problems and to worries about appearance. Some time Hayek had been so ashamed of herself that she couldn't go outside. Nevertheless, she had found the strength to cope with all these problems before she entered the Ibero-American University in Mexico City.
Soon Salma understood that the career as a diplomat didn't captivate her at all, and she secretly began to study at the acting courses, playing in student's performances. In a short time, she had to confess about this hobby to her father who didn't believe in the talent of his daughter in the beginning but anyway supported her aspiration to become an actress.
In 1991 future star went to Los Angeles to study acting. There she had to get rid of her Mexican accent very fast as it could prevent her to make a career in Hollywood.
Movies
Salma got to the cinema by a lucky chance. She was performing in the play "Aladdin" on the stage of children theater where the girl was noticed by the Mexican producer and he offered her a small role in the series. Her debut turned out to be so successful that after a while the actress received a leading role in the TV series "Teresa", which came out in 1989. And, though there were enough similar series on the Mexican television, "Teresa" was extremely successful, not least because of the charming and talented Salma.
After the premiere Hayek instantly became the most famous and popular actress of her country. By this fortune, she was invited to play in the feature movie "The Alley of Miracles". The director had selected a real "star" cast for this picture, the movie gained huge popularity in the homeland and deserved a number of prestigious awards.
see also : Sam Smith Untold Stories and Net Worth
However, Salma had greater ambitions. Therefore she went to the USA where at the beginning she faced severe discrimination. The American directors just refused to offer the actress leading roles, considering that a Mexican can't be the central character in the movie. Though she was lucky to meet Robert Rodriguez whose ancestors also came from Mexico. The director appreciated Hayek's talents and invited her to take part in the movie "Desperado" with Antonio Banderas in the leading role. Initially, Jennifer Lopez had to become the partner of the actor, but Rodriguez relied on Salma, who nobody knew in the USA at that time.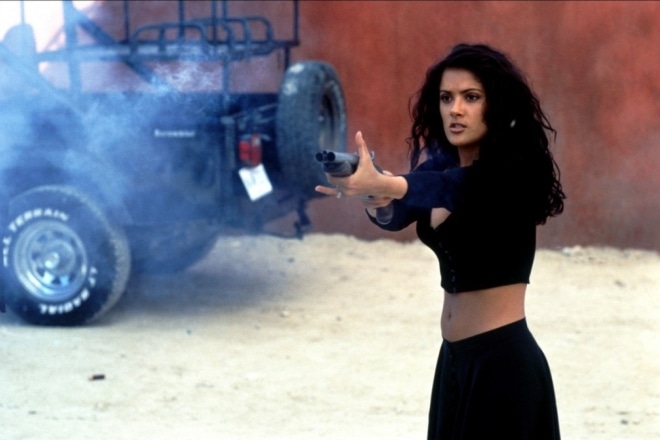 The movie came on the screen in 1995 and brought the actress first popularity in the Hollywood and also gave her new invitations to the shootings. Hayek herself turned out not to be delighted with the offered roles as most directors saw her only as a character of fatal beauties whereas the actress wished to show her artistic talents, but not her impressive appearance. She even thought to return back to Mexico, but Rodriguez's spouse persuaded her to stay.
Salma continued to take part in Robert's pictures, and during the next years the movies "Four Rooms", "From Dusk till Dawn" were released. In the picture "From Dusk till Dawn," Hayek performed the well-known dance with a boa her fine figure.
In 2000 Hayek founded her production center of "Ventanarosa" which was more loyal to Spanish-speaking actresses. The drama "No One Writes to the Colonel" where the actress played one of the roles became her debut picture.
Salma Hayek gained her cult glory and popularity due to her role in the movie "Frida" of 2002. Salma had been dreaming to play the character of the famous Mexican artist for seven years, and when Hayek became the producer of the movie, her dream came true. For the role of Frida, the actress wasn't even afraid to grow the real mustache which was peculiar to Frida Khalo. Experiments with appearance, as well as the movie, hadn't gone unnoticed. The picture won two Academic Awards, one of which – for Best Actress in the leading role that was a real recognition of Hayek's talent.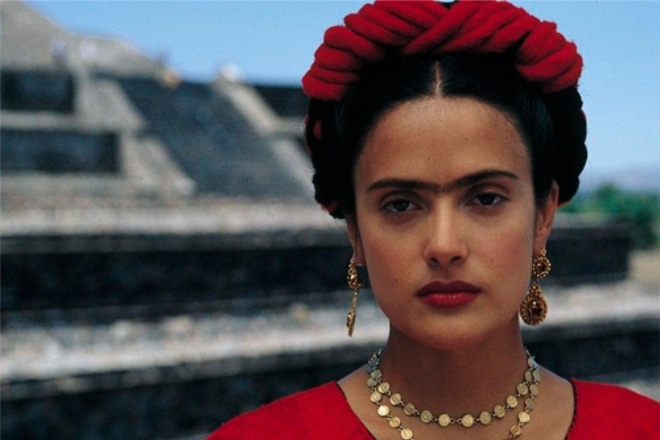 Not less successful was the director's debut of Salma. In 2003 the movie "The Maldonado Miracle" was released. This picture brought Salma Emmie Award.
After the success of "Frida," Hayek became really popular. The press and television included her in various rates, calling her the most elegant star (TV channel E!), one of the sexiest women of the world (Stuff gave her 31st place in their rate; "Maxim" magazine gave her 24th place). Hayek lived in a down-to-earth manner and continued to act. At first, she accepted a role in the further movie directed by Robert Rodriguez – "Once Upon a Time in Mexico".
Such stars as Antonio Banderas, Johnny Depp, Enrique Iglesias performed in this movie together with Salma Hayek. This movie became the final part of the trilogy about the musician. Then Salma acted in the adventure picture "After the Sunset" where together with Pierce Brosnan she presented the character of the robber of the highest level.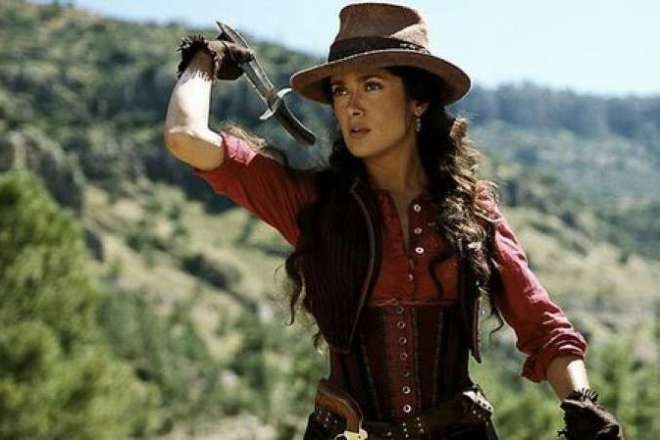 And in 2006 there the western "Bandidas" directed by Luc Besson was released. Here Hayek performed together with her bosom friend Penélope Cruz. In this picture, Hayek got into the character of the skillful thief. Movie critics didn't meet this picture positively but it was a huge success among the audience.
In 2014 Hayek again acted in a duet with Pierce Brosnan, in the picture "How to Make Love Like an Englishman". Brosnan plays an awful womanizer and professor of Cambridge from whom his student (Jessica Alba) gets pregnant. But the problem is that Brosnan's hero likes more her elder sister Olivia who is performed by Salma Hayek.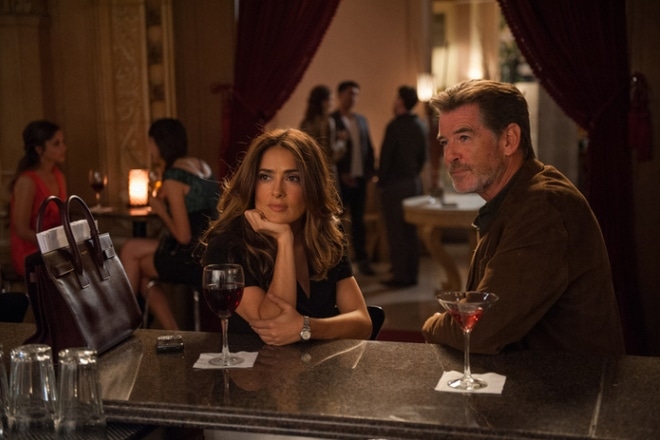 In 2015 the star of the movies "Desperado" and "Frida", a 48-year actress at that time gathered enough courage to pose nude for the glossy "Allure" magazine. Despite some spicy shots where Hayek appeared topless in front of the readers the photo session didn't look vulgar but elegant. Despite the age, Salma Hayek has a fine figure which is close to ideal. Her parameters are 95-63-94, she is 157 cm high and weighs only 52 kilos. The actress keeps her body in shape due to periodic diets.
The same year Hayek acted together with Vincent Cassel in the movie "Tale of Tales" directed by Matteo Garrone. The tape didn't receive any awards at Cannes Film Festival but won a number of awards in Italy.
see also : Ryan Gosling Untold Stories and Net Worth
Personal life
Hollywood not only brought the actress world fame but also a number of wonderful love affairs. There were many men in Salma's life. The British actor Edward Atterton with whom they met on the movie set of "The hunchback" became the first dearie of the Mexican star. Their relationship lasted for two years only as Salma preferred to devote her life to work, having broken up the relations.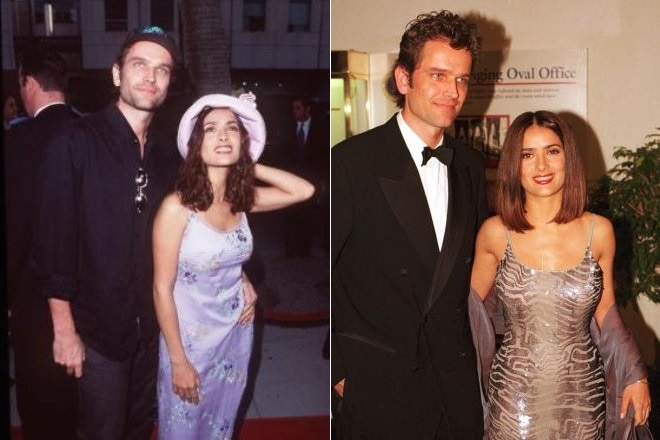 In 1999 she met the actor Edward Norton. The couple met each other about four years. Different working schedules became the reason for their separation, the actors just couldn't find enough time for each other. Moreover, Norton didn't always like publicity whereas his darling Hayek regularly appeared on the covers of magazines and gave numerous interviews. For a year Salma had relations with the actor Josh Lucas who was sincerely admiring his talented companion.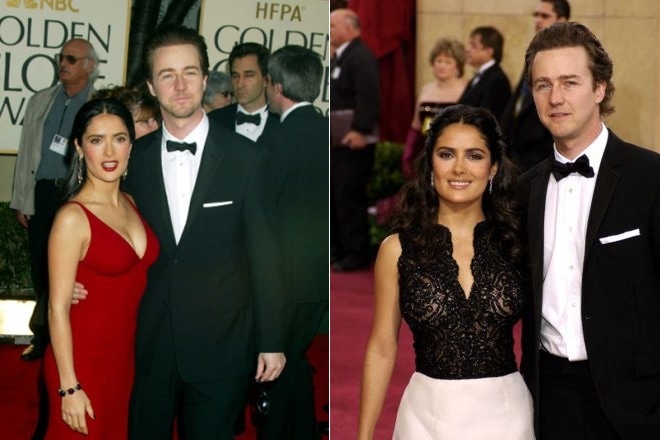 During a long time Hayek had been concealing her private life from the press, and in 2007 she unexpectedly announced the engagement with the French billionaire Francois -Henri Pinault who owns a number of Fashion Houses of Europe. Later it became obvious that the actress was expecting a baby: the girl was born on the 21st of September of the same year and was called Valentina Paloma.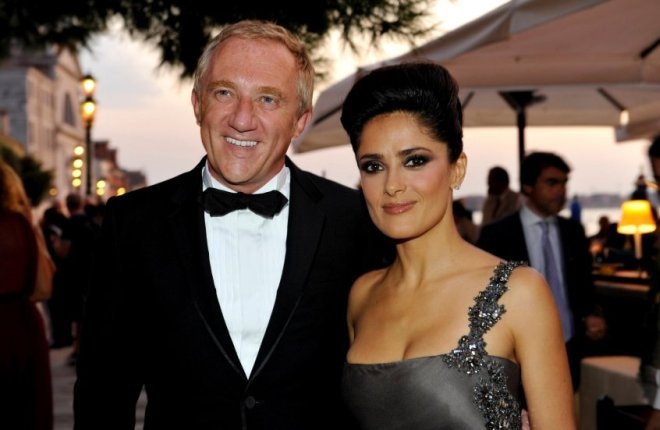 Their wedding was celebrated two years later in the most beautiful theater of Venice where there were many famous figures of France and the USA.
In the homeland of the businessman Salma lives under the surname of her husband as there he is better known, than she.
Salma Hayek at present
In 2016 the actress celebrated her 50-year anniversary and again took part in a rather frank photoshoot – this time for the GQ Mexico magazine. And in 2017 Hayek celebrated one more anniversary – 20 years of friendship with another famous actress – Penélope Cruz. Two celebrities posted a joint photo on Instagram and by that have proved that it's possible to have a strong friendship in Hollywood even despite different mentalities and religion (Hayek is Catholic, and Cruz is Buddhist).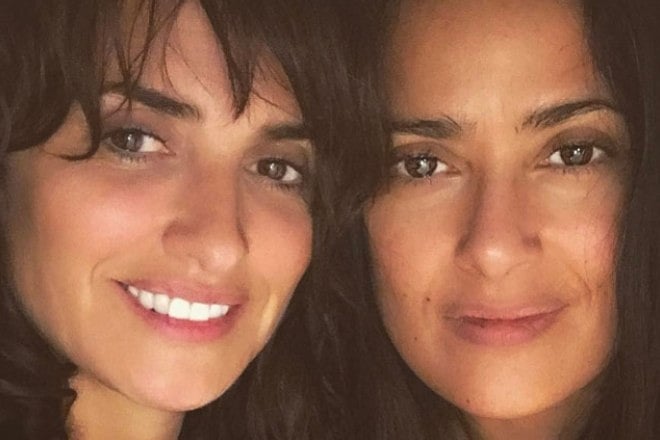 The secret of their solid friendship is that women had got acquainted before they became well-known.
What about creative plans of Salma Hayek, in 2017 the movie with her participation "The Hitman's Bodyguard" will be released.
Filmography
"Teresa"
"The Alley of Miracles"
"Desperado"
"Four Rooms"
"The Hunchback"
"Dogma"
"Wild Wild West"
"Frida"
"Bandidas"
"Everly"
#JeansForRefugees – raising funds for refugees creatively! Bid for my jeans painted by @JohnyDar at https://t.co/klNpEfu8qT

— Salma Hayek (@salmahayek) October 22, 2016
See Also:
Woman Caught Cheating When Her And Boyfriend Got Picked By Uber Driving Husband
Tom Brady Untold Stories and Net Worth
People Are Now Using kids To Smuggle Drugs Into Prisons Undetected
Man Hand Feeds Crocodiles In Pond inside AFRICAN Village
Woman Caught Cheating When Her And Boyfriend Got Picked By Uber Driving Husband
Fact Check
We strive for accuracy and fairness. If you see something that doesn't look right, contact us!
Thanks for reading and remember to share this post on social media & stand a chance to win $10,000