News
Deadliest Event That Shock Mount Everest Climbers [375 + Deaths]
The Deadliest Day on Mount Everest's
This is one of the most shocking events at the top of the month everest – The Deadliest Event That Shock Mount Everest Climbers
Mount Everest is located in Nepal. It is also known as the highest mountain in the world. At 8,848 meters (29,029 feet) above sea level, it is a mountain peak that climbers particularly like. More than 375 people were killed as a result of the climbing mount everest.
SEE ALSO : 13 Famous People Who Died Climbing Mount Everest
Most of Mount Everest's deaths are attributed to avalanches, falls, ice falls, sun exposure, frostbite, or health issues related to mountain conditions. Not all bodies have been found, so details of these deaths are not available.
The highest part of the mountain are in the death zone. A dead zone is a mountaineering activity that refers to an altitude above a certain point-approximately 8,000 m (26,000 ft), or an atmospheric pressure below 356 mbar (5.16 psi)-where oxygen levels are not sufficient to sustain human life .
In high-altitude mountaineering, many deaths are caused by the effects of death zones, whether direct (loss of vitality) or indirect (wrong decisions made under stress or weakness, leading to accidents).
Nepal has opened Mount Everest & other Himalayan peaks for Tourist pic.twitter.com/sFwtLYvjJP

— Jing Xi (@ChinaJingXi) July 30, 2020
In the death zone, the human body cannot adapt to the environment because it consumes oxygen faster than it can supplement it. Staying in the area for a long time without supplemental oxygen can lead to decreased body function, loss of consciousness and ultimately death.
Climbing Everest is an incredibly difficult achievement. Individuals attempting to reach the summit face dangerous conditions, terrible cold, and lack of access to emergency personnel-and they can also feel fatigued.
SEE ALSO: Fahim Saleh Net Worth [Cause of death + Gokada]
Surprisingly, there are so many deadly Everest stories, or there are dead bodies scattered on the slope of the peak. Although the mountain has claimed many lives, no one has been more deadly than the 1996 Everest summit.
Mount Everest Climbers
The following is a list of climbers en route to the summit on 10 May 1996 via the South Col and Southeast Ridge, organized by expedition and role. All ages are as of 1996.
The Adventure Consultants' 1996 Everest expedition, led by Rob Hall, consisted of these individuals.
The 1996 Adventure Consultants team described by Jon Krakauer in Into Thin Air
Adventure Consultants Guides
Rob Hall – expedition leader (died near the South Summit)
Mike Groom
Andy Harris (disappeared near the South Summit while assisting Hall)
Adventure Consultants Clients
Frank Fischbeck (53) – attempted Everest three times, reached the South Summit in '94

Doug Hansen (46) – previously attempted Everest with Hall's team in '95 (disappeared near the South Summit while descending with Hall)
Stuart Hutchison (34) – youngest client on Hall's team; previous 8,000 m experiences included K2 winter expedition 1988, Broad Peak west ridge 1992, and Everest north side 1994
Lou Kasischke (53) – had climbed six of the Seven Summits
Jon Krakauer (41) – journalist on assignment from Outside magazine; an accomplished technical climber, but had no experience in climbing peaks over 8,000 m
Yasuko Namba (47) – had climbed the Seven Summits; became the oldest woman to summit Everest at the time (died on the South Col)
John Taske (56) – oldest climber on the Adventure Consultants team; no 8,000 m experience
Beck Weathers (49) – had been climbing for 10 years; he was also making a bid for the Seven Summits, but had no 8,000 m experience
Mount Everest Adventure Consultants Sherpas
Sardar Ang Dorje (29)
Arita
Chuldum
Kami
Lhakpa Chhiri
Ngawang Norbu
Tenzing
Lopsang
The Sherpas listed here were the climbing Sherpas hired by Rob Hall's Adventure Consultants. There were many other Sherpas working at lower elevations, who performed duties vital to the Adventure Consultants and Mountain Madness expeditions.
Most climbing Sherpas' duties require them to ascend at least as high as Camp III or IV, but not all of them summit. The expedition leaders intend for only a select few of their climbing Sherpas to summit. Legendary sardar Apa Sherpa was scheduled to accompany the Adventure Consultants group but withdrew due to family commitments.
Hundreds of people have passed by the body of Tsewang Paljor, better known as Green Boots, but few of them actually know his story.⁠https://t.co/kFucbwArVL

— Welcome To Nature (@welcomet0nature) July 29, 2020
None of the clients on Hall's team had ever reached the summit of an 8,000 m peak, and only Fischbeck, Hansen and Hutchison had previous high-altitude Himalayan experience.
SEE ALSO: John Lewis Net Worth [Civil Rights Movement, Prison + Death]
Hall had brokered a deal with Outside magazine for advertising space in exchange for a story about the growing popularity of commercial expeditions to Everest.
Krakauer was originally slated to climb with Scott Fischer's Mountain Madness team, but Hall landed him, at least in part, by agreeing to reduce Outside's fee for Krakauer's spot on the expedition to less than cost. As a result, Hall was paying out-of-pocket to have Krakauer on his team.
Scott Fischer was the lead climbing guide for the Mountain Madness expedition. The team included eight clients.
Mountain Madness, Founder Scott Fischer
Scott Fischer – lead climbing guide (died on the Southeast ridge balcony 350m below the South Summit)
Neal Beidleman – professional outdoorsman
Anatoli Boukreev – professional mountaineer, in 1997 was awarded the David A. Sowles Memorial Award by the American Alpine Club.
Mountain Madness expedition Clients
Martin Adams (47) – had climbed Aconcagua, Denali, and Kilimanjaro
Charlotte Fox (38) – had climbed all 53 of the 14,000 ft (4,267 m) peaks in Colorado and two 8,000 m peaks, Gasherbrum II, and Cho Oyu
Lene Gammelgaard (35) – accomplished mountaineer
Dale Kruse (45) – long-term personal friend of Fischer's; first to sign up
Tim Madsen (33) – climbed extensively in the Colorado and Canadian Rockies; no 8,000 m experience
Sandy Hill Pittman (41) – had climbed six of the Seven Summits
Pete Schoening (68) – one of the first to climb Gasherbrum I and Mount Vinson; known for single-handedly saving the lives of six team members during a mass fall in the American expeditionon K2, 1953
Klev Schoening (38) – Pete's nephew; former US national downhill ski racer; no 8,000 m experience.
Mountain Madness expedition Sherpas
Sardar Lopsang Jangbu Sherpa (23)
"Big" Pemba
Ngawang Dorje
Ngawang Sya Kya
Ngawang Tendi
Ngawang Topche (died a few months later from HAPE he contracted during hauling duties to Camp II)
Tashi Tshering
Tendi c
The Sherpas listed here were the climbing Sherpas hired by Scott Fischer's Mountain Madness expedition. Ngawang Topche was hospitalized in April; he had developed high altitude pulmonary edema (HAPE) while ferrying supplies above Base Camp. He was not on the mountain during the summit attempt of 10 May. Topche died from his illness that June.
Schoening had decided, while still at Base Camp (5,380 m/17,700 ft), not to make the final push to the summit. The team began the assault on the summit on 6 May, bypassing Camp I (5,944 m/19,500 ft) and stopping at Camp II (6,500 m/21,300 ft) for two nights.
However, Kruse suffered from altitude sickness and possible high altitude cerebral edema (HACE), and stopped at Camp I. Fischer descended from Camp II and escorted Kruse back to Base Camp for treatment.
Mount Everest Climbers: Taiwanese expedition Team
"Makalu" Gau Ming-Ho led a five-member team to Everest that day.
The previous day (9 May), Taiwanese team member Chen Yu-Nan had died following a fall on the Lhotse Face.
Indo-Tibetan Border Police
1996 Indo-Tibetan Border Police expedition to Mount Everest
Half the climbing team from the Indo-Tibetan Border Police North Col expedition from India.
(Subedar Tsewang Samanla, Lance Naik Dorje Morup, and Head Constable Tsewang Paljor) died on the Northeast Ridge.
Details about the deadliest Everest climb chart a grim narrative of planning gone awry. On May 10 and 11, 1996, eight climbers lost their lives. Some were seasoned athletes who had completed this trek before; others had never attempted a climb of this magnitude. None could have anticipated what it's like to die on Mount Everest.
You know the story: it's the true inspiration behind Jon Krakauer's bestseller Into Thin Air. But what you likely don't know is how terrifying that climb really was. These facts about the 1996 Mount Everest disaster will chill you to the bone, almost as much as the Himalayan mountain's icy peaks.
More Novices Were Attempting The Climb On That Day
29th May, 1953: The day Edmund Hillary and Tenzing Norgay Reached Mt. Everest
Sir Edmund Hilary and Sir Tenzing Norgay were the first people to climb Everest in 1953. However, by the mid-1990s, technology had made great progress, and even intermediate climbers could try dangerous trek with the help of a guide.
Everest had more expeditions in 1996 than ever before. As many as 17- teams of hundreds of climbers attempted to climb to the the mount everest summit peak that year.
Many of these climbers are relatively inexperienced. This, coupled with overcrowding on the mountain, proved fatal. Four independent groups attempted to attend the summit.
Four groups were caught in a fatal event on Mount Everest. The Mountain madness team was led by Scott Fischer, Neal Beidleman and Anatoli Boukreev. They have 8 – clients with different experiences. They were also accompanied by some Sherpas to help carry their climbing gear.
Adventure consultants are led by seasoned climbers Rob Hall, Mike Groom and Andy Harris. They directed eight clients, including Jon Krakauer, a journalist for External Magazine, where they covered the Everest commercialization.
The third group is the Taiwan expedition led by Hou Minghao, and the fourth group is organized by the Indio-Tibetan Border Police.
Mount Everest Climbers Paid Nearly $60,000 To Make It To The Top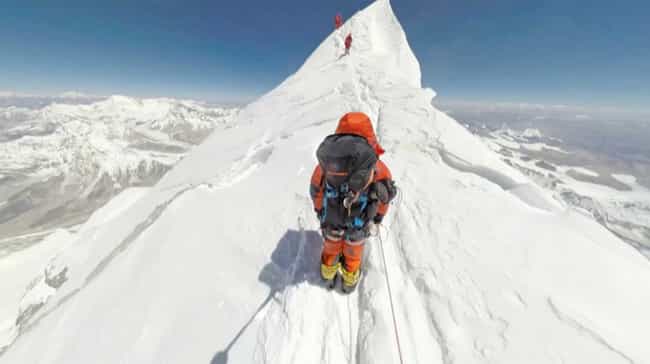 Climbing Mount Everest comes at a cost, and each of the climbers on Rob Hall's expedition that left on that deadly day paid nearly $60,000 to make the trip. Scott Fischer had competing rates, and the guides were locked in an unofficial rivalry as they promised climbers the chance to reach the summit.
Survivor Lou Kasischke blames the price tag for the intense pressure to succeed, and claims that the deaths could have been avoided had they just turned around like they normally would have: "To feed the business they need success. The minute Scott kept going to the summit, he couldn't face not going."
Some People Treated The Expedition Like A Vacation
Sandy Pittman, the wife of TV businessman Rob Pittman, had climbed 6 of the "High 7" mountains before she signed onto Scott Fischer's expedition to climb up to Everest. But her experience didn't stop her from bringing a slew of bizarre items with her, possibly to enliven her reports for NBC Interactive Media 
"I have got as much in the way of computers and electronic hardware as I have climbing equipment: two portable microcomputers, a camcorder, three 35 mm cameras, a digital camera, two tape recorders, a CD player, a printer and a sufficient quantity (I hope) of solar panels and batteries to make the whole lot operate.

I would not like to leave without taking a blend of coffee from Dean & DeLuca, as well as my espresso machine. And because we will be on Everest for Easter, I have also taken four chocolate eggs. Hunting for Easter eggs at 5,000 meters should be interesting."
Pittman didn't seem to understand how formidable of an undertaking climbing Everest was. Reportedly, she even enlisted friends like Martha Stewart to meet her at base camp and had copies of Vogue and Vanity Fair sent to her while she adjusted to the high altitude.Years later, Pittman spoke out about the way she was portrayed in the book "Into Thin Air. She resented being characterized as a diva, saying,
"I was an easy target. Back in those days you could get away with destroying someone's life and flogging them with – innuendo."

Disastrous Delays Happened From The Start
All of the expeditions were delayed before they even reached the top on May 10. The Sherpas and the guides had not laid ropes by the time the climbers reached the Balcony (about 8,300 feet); installing them costs the climbers an hour. When they got to "Hillary Steps", they discovered there was no fixed line, either, which took another hour to install.
There was also a terrible congestion effect as multiple climbers tried to reach it through the Hillary Step at the same time. Some climbers started to turn around and feared running out of oxygen because of the delay. Others continued to the summit without extra oxygen.
The Weighted Guides Forward Despite Waning Daylight … In addition to dealing with the physical challenges, climbers must be loaded.
Lou Kasischke, an amateur climber who survived the 1996 disaster, believes that competition between the climbing teams leads to the high body count on Everest.
Guide Rob Hall promised to turn around if climbers didn't have the opportunity to reach base camp in daylight; in fact, he had turned back the year before over previous security concerns. But, according to Kasischke, he saw Hall Fischer go to the summit, so he ignored the shrinking daylight and went too.
"The climbing plan was to go down at that time. No one would have died if the plan had been followed," Kasischke said.
At approximately 1:25 p.m., a group of climbers led by Anatoli Boukreev reached the summit. People didn't start the descent until after 3 p.m., and by then, it was dangerously  too late to be starting back down the mountain.
The Climbers Became Trapped In A Storm
Due to the deferrals along the course, climbers were running low on oxygen. And after that, to exacerbate the situation, a storm suddenly slipped upon the mountain, stranding climbers a fourth of a mile from their tents. Indeed, even the experienced guides thought that it was hard to move.
Anatoli Boukreev ended up descending to the nearest camp without his clients, supposedly to put himself in a better position to rescue them later (a move that was highly criticized). Rob Hall and Scott Fischer stayed with their clients as they ran out of oxygen.
The most famous body on Mount Everest is Green Boots, who is passed by almost every climber.https://t.co/RSbg0xkBjG

— Nature's Lovers (@natureslover_s) July 29, 2020
The Chilling Story Behind The Deadliest Day In Mount Everest's History
The "Green Boots" body has been on Everest since 1996 and is a landmark for climbersVisibility was nonexistent on the slopes. "It was like swimming in a glass of milk – a very turbulent glass of milk – for another eight to 10 hours," said Sandy Pittman.
Due to the difficulties and dangers in bringing bodies back down the dangerous mountain,  most of those who die on the mountain remain where they fall, although some are moved by winds and ice. Two Nepalese climbers died on October 24, 1984, while trying to recover the body of a climber Hannelore Schmatz.
While searching for George Mallory's body in a "catchment basin" near the peak in 1999, searchers came across multiple bodies in the snow, including Mallory's
The Deadliest Event That Shock Mount Everest's Climbers  – Facts About Mount Everest
1. Mount Everest is the world's highest point at 8,848 meters (29,029 ft.) above sea level.
2. Numbers – 4,000 people have attempted to climb the mountain, 660 have succeeded, 142 have died trying, the peak is 5 and half miles above the sea level, to reach the peak, you will have to put 20 Empire State Buildings on top of each other.
3. The mountain was named after Sir George Everest – the British surveyor-general of India.
4. The mountain is approximately 60 years old.
5. Other names used to refer to the mountain include; Sagarmatha in Nepalese, Chomolungm in Tibetan.
6. The mountain grows 4mm higher every year due to Geographical uplifts.
7. Mt Everest was initially known as Peak 15 at the height of 29,002 feet in 1856. Its name was later changed to Mt. Everest in 1865. In 1955, its height was adjusted to 29,028 (which Nepal use to-date). China uses 29,015 feet as the official height but using the modern GPS technology in 1999, scientists established its height to be 29,035 feet.
8. Edmund Hillary and Tenzing Norgay were the first human beings to climb the mountain on May 29, 1953.
9. Italian Reinhold Messner and Peter Habler in 1978 were the first people to reach the summit of Mount Everest without bottled oxygen.
10. Avalanches on the mountain are the greatest cause of death on the mountain. In 1996, 15 people lost their lives as they attempted to descend from the mountain due to an avalanche.
Climbing the Mount Everest is an epic feat to accomplish – but it also involves putting your life in monumental danger.
The Himalayas have abundance of places to climb without necessarily putting your life in danger. For the brave, make sure you know all you need to know before attempting the climb.
Where is mount everest?
Mount Everest is the highest mountain on earth above sea level and is located in the Mahalangur Himal sub-region of the Himalayas. The border between China and Nepal runs across its peak.
Mount everest height: Altitude: 8,848 m
Mount everest location: Place: Solukhumbu District, Province No. 1, Nepal; Tingri District, Xigazê, Tibet Autonomous Region, China
Mount everest route: Southeast ridge (Nepal)
First Ascenders: Edmund Hillary, Tenzing Norgay
Countries: Nepal, China
Mountain range: Himalaya, Mahalangur Himal
Fact Check
We strive for accuracy and fairness. If you see something that doesn't look right, contact us!
Thanks for reading and remember to share this post on social media
REF : Wikipedia