Billy Connolly Childhood Biography, life Story & Facts
Full Biography Of Billy Connolly
Birth name: William Connolly
Born 24 November 1942 (age 75)
Glasgow, Scotland, United Kingdom
Medium
Stand-upTelevisionFilm
Nationality Scottish
Years active 1965–present
Genres
ObservationalBlueMusical comedy
Spouse
Iris Pressagh
(m. 1969; div. 1985)
Pamela Stephenson (m. 1989)
Children 5
Website billyconnolly.com
Who is Billy Connolly? 
Sir William Connolly, CBE (born 24 November 1942) is a Scottish comedian, musician, presenter and actor from Glasgow. He is sometimes known, especially in his homeland, by the nickname "The Big Yin" ("The Big One").
His first trade, in the early 1960s, was as a welder (specifically a boilermaker) in the Glasgow shipyards, but he gave it up towards the end of the decade to pursue a career as a folk singer, firstly in the Humblebums alongside friend Gerry Rafferty and Tam Harvey until 1971, and subsequently as a solo artist. In the early 1970s, Connolly made the transition from folk-singer with a comedic persona to fully fledged comedian, for which he has received numerous awards.
Connolly is also an actor and has appeared in such films as Water (1985), Indecent Proposal (1993), Pocahontas (1995), Muppet Treasure Island (1996), Mrs. Brown (1997), The Boondock Saints (1999), The Man Who Sued God (2001), The Last Samurai (2003), Timeline (2003), Lemony Snicket's A Series of Unfortunate Events (2004), Garfield: A Tail of Two Kitties (2006), Open Season (2006), The X-Files: I Want to Believe (2008), Open Season 2 (2008), Brave (2012), Quartet (2012), and The Hobbit: The Battle of the Five Armies (2014). Connolly reprised his role as Noah "Il Duce" MacManus in The Boondock Saints II: All Saints Day (2009).
Billy Connolly's Early life
Connolly's paternal grandfather, whom — like his paternal grandmother — Connolly never met, was an Irish immigrant who left Ireland when he was ten years old. His great-great-great grandfather (Charles Mills, a coast guard, 1796–1870) and great-great grandfather (Bartholomew Valentine Connolly) were from Connemara.
Connolly's father was William Connolly; his mother, Mary "Mamie" McLean, was from the Clan Maclean of Duart Castle on the Isle of Mull on the west coast of Scotland. Mamie's father, Neil, was a Protestant, and her mother, Flora, was a Roman Catholic who "made clandestine arrangements for the children to be baptized as Catholics", although they were "formally raised as Protestants". His maternal grandparents moved inland to Finnieston Street, Glasgow, in the early 1900s.
His maternal great-great-great-grandfather, John O'Brien, fought at the Siege of Lucknow during the Indian Rebellion of 1857. He was wounded during the long siege by a severe gunshot to the left shoulder. He married a local 13-year-old Indian girl called Matilda. They had four children and settled in Bangalore after his military service.
Billy Connolly Childhood
Connolly was born at 69 Dover Street, "on the linoleum, three floors up" at six o'clock in the evening",in Anderston, Glasgow. This section of Dover Street, between Breadalbane and Claremont streets, was demolished in the 1970s. Connolly refers to this in his 1983 song "I Wish I Was in Glasgow" with the lines "I would take you there and show you but they've pulled the building down" and "They bulldozed it all to make a road". The flat had only two rooms: a kitchen-living room, with a recess where the children slept and another room for their parents. The family bathed in the kitchen sink, and there was no hot water.
In 1946, when he was barely four years old, Connolly's mother abandoned her children while their father was serving as an engineer in the Royal Air Force in Burma. "I've never felt abandoned by her", Connolly explained in 2009. "My mother was a teenager. My father was in Burma, fighting a bloody war.
The Germans were dropping all kinds of crap on the town. We lived at the docks, so that's where all the bombs were happening. She was a teenager with two kids in a slum. A guy comes along and says, 'I love you. Come with me.' Given the choice, I think I'd have gone with him. It looks as though it might all end next Wednesday, from where you're standing. I don't have an ounce of feelings that she abandoned me. She tried to survive."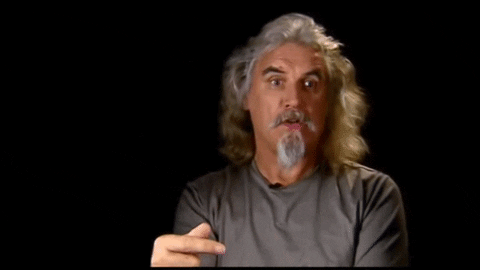 Connolly and his older sister, Florence (named for their maternal grandmother, and eighteen months his senior), were cared for by two aunts, Margaret and Mona Connolly, his father's sisters, in their cramped tenement in Stewartville Street, Partick.
"My aunts constantly told me I was stupid, which still affects me today pretty badly. It's just a belief that I'm not quite as good as anyone else. It gets worse as you get older. I'm a happy man now but I still have the scars of that." Regarding his sister, Connolly has called her his "great defender". "To this day, he explained in 2009, "Guys say, 'God, your sister… We didn't dare beat you up – your sister was a nightmare'. She used to get after them."
In the mid-1960s, Flo was on holiday in Dunoon with her husband and two children. "My mother said, 'I saw Florence walking along, and I followed her. "I said, 'Did you speak to her?' 'Oh, no, I didn't,' she said. I thought, 'Oh, my god. It's like being a ghost while you're still alive.' Walking behind your own child. Having a look. I couldn't bear that."
The aunts resented the children for the fact that they had to sacrifice their young lives to look after them. It was Mona who was troubled the most by having to care for her niece and nephew. "It was very big of her to take on the responsibility, but having said that, I wish people wouldn't do that. I wish people wouldn't be very big for five minutes and rotten for twenty years. Just keep your 'big' and keep your 'rotten' and get out of my life, because, quite frankly, I would rather have gone to a children's home and be with a lot of other kids being treated the same. To this day, I'm still working on the things she did to me."
Connolly credits one of John Bradshaw's publications with helping him deal with his past demons. "He reckons that if this trauma happened to you when you were five or six then, emotionally, that part of you remains five or six. And what you have to do is carry that five- or six-year-old around with you and try and emotionally help that other part of you. It sounds a bit airy-fairy, but I think he's something of a genius, Mr. Bradshaw."
Connolly Sr returned from the war, a stranger to his children, shortly after the move to Partick. He never spoke to them about their mother's departure.
Connolly's biography, Billy, written by wife Pamela Stephenson, documented years of physical and sexual abuse by his father, which began when he was ten and lasted until he was about fifteen. "Sometimes, when father hit me, I flew over the settee backwards in a sitting position. It was fabulous. Just like real flying, except you didn't get a cup of tea or a safety belt or anything." In 1949, Mona gave birth to a son, Michael, by a "local man". He was presented as a brother to Billy and Flo, and nobody questioned it.
Billy Connolly 'no longer recognises close friends' as Parkinson's battle bites https://t.co/nuJPSATEsi

— Broadbeak (@Broadbeak) August 19, 2018
Connolly's bedroom had double windows, which directly faced St Peter's Primary School across the street. Now defunct, it has been converted into living accommodation. "The school was very violent indeed. At first, in the infant school, the nuns were very violent. And then over here at St Peter's, they were just strapping you all the time. I had a psychopath in here, called McDonald — Miss McDonald. "Big Rosie", they called her. There was a guy with glasses in my class and she called him "four eyes", and she was a teacher!"
At St Peter's, Connolly decided he wanted to make people laugh. "I can remember the moment in the school playground. I would have been 7 or 8. And I was sitting in a puddle and people were laughing. I had fallen in it and people found it funny. And it wasn't all that uncomfortable, so I stayed in it longer than I normally would because I really enjoyed the laughing. My life was very unhappy at the time, and laughter wasn't something I heard all the time, so it was a joy. And I realised quickly that if you can have an audience this way, life was rather pleasant."While at St Peter's, Connolly joined a gang. His arch-enemy was Geordie Sinclair, who lived around the corner.
Connolly was a Wolf Cub with the 141st Glasgow Scout Group. He revisits the site of one field trip, Auchengillan scout camp, during his World Tour of Scotland. At age 12, Connolly decided he wanted to become a comedian but did not think that he fit the mould, feeling he needed to become more "windswept and interesting". Also at that age, he joined an organisation called The Children of Mary. The group would visit people and say the Rosary, with a statue of the Lady of Lourdes in a shoebox. "We were as welcome as haemorrhoids."The group would all kneel around the statue and pray. "You could hear people hurrying prayers because there was a good television programme coming."
In the 1950s, Glasgow's sandstone tenements fell out of favour with the planners, which resulted in new houses being built on the fields and farmlands in the outskirts of the city. Between the ages of fourteen and twenty, Connolly was brought up on a now-demolished council estate on Kinfauns Drive in the Drumchapel district of Glasgow, and would make the daily journey to St. Gerard's Secondary School (also now defunct) in Govan, on the southern side of the River Clyde. He rode the bus to Partick, crossed the water by ferry and walked to 80 Vicarfield Street.
Billy Connolly's Career
Connolly's The Big Yin nickname was first used during his adolescent years to differentiate between himself and his father. "My father was a very strong man. Broad and strong. He had an 18½-inch neck collar. Huge, like a bull. He was "Big Billy" and I was "Wee Billy". And then I got bigger than him, and the whole thing got out of control. And then I became The Big Yin in Scotland. So, we'd go into the pub and someone would say, 'Billy Connolly was in.' 'Oh? Big Billy or Wee Billy?' 'The Big Yin.' 'Oh, Wee Billy.' If you were a stranger, you'd think, 'What are these people talking about?'"
Connolly Personal life
Connolly has been married to his second wife, comedian and psychologist Pamela Stephenson, since 1989. He is father to five children: two from his first marriage, to Iris Pressagh, and three from his second. Connolly became a grandfather in 2001, when Cara gave birth to Walter.
In the book Billy, and in a December 2008 online interview, Connolly states that he was sexually abused by his father between the ages of 10 and 15. He believes this was a result of the Catholic Church not allowing his father to divorce after his mother left the family. Because of this, Connolly has a "deep distrust and dislike of the Catholic church and any other organization that brainwashes people". Connolly has called himself an atheist.
In September 2013, Connolly underwent minor surgery for early-stage prostate cancer. The announcement also stated that he was being treated for the initial symptoms of Parkinson's disease.
Connolly had acknowledged earlier in 2013 that he had started to forget his lines during performances.
Connolly appeared on Who Do You Think You Are? on 2 October 2014, in which he discovered his Indian ancestry.
see also :   Plants killing chemical Found inside children's breakfast foods
Billy Connolly Stand-up comedy
Connolly's observational comedy is idiosyncratic and often off-the-cuff. He has offended certain sectors of audiences, critics and the media with his free use of the word "fxxk" and he has made jokes relating to masturbatXon, blasphemy, defecation, flatulence, haemorrhoids, sex, his father's illness, his aunts' cruelty and, in the latter stages of his career, old age (specifically his experiences of growing old).
In 2007 and again in 2010, he was voted the greatest stand-up comic on Channel 4's 100 Greatest Stand-Ups. He once again topped the list on Channel 5's Greatest Stand-Up Comedians, broadcast on New Year's Eve 2013.
Since the 1980s, Connolly has worn a custom-made black T-shirt with a shirt-tail as part of his on-stage attire. The first one was by the now Belfast-based English designer Stephen King. From around the same time, his manager has been Steve Brown.
SEE ALSO : Woman who was drunk & killed three people, charged with homicide
Fact Check
We strive for accuracy and fairness. If you see something that doesn't look right, contact us!
Thanks for reading and remember to share this post
source : wiki